Professor
is Rasiel's Ke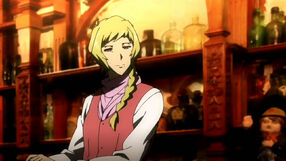 ykeeper.
Personality
Edit
Appearance
Edit

He looks like a man with long light blond hair and blue eyes. He also wears a white coat, white pants with pink underneath it and a pair of gloves.
He is shown briefly, looking down at the devastation done to Mabel's home-town. He simply tells her there was no point in grieving since you can just rebuild what has been destroyed and asks her if she agreed.
Ad blocker interference detected!
Wikia is a free-to-use site that makes money from advertising. We have a modified experience for viewers using ad blockers

Wikia is not accessible if you've made further modifications. Remove the custom ad blocker rule(s) and the page will load as expected.